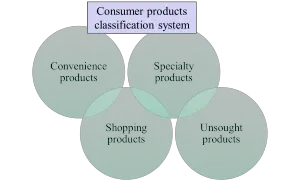 In marketing textbooks, consumer products are classified into four related sets of products, namely:
Convenience products
Shopping products
Specialty products
Unsought products
Below is a list of examples for classifying consumer products on this basis.
Examples of convenience products
Newspapers and magazines
Most groceries and food items
Soft drinks and snack foods and candy bars
Tissues, headache tablets
Bread and milk, breakfast cereals
Toothpaste, soap, and shampoo
Cleaning products, dish-washing powder, detergents
Using an ATM
Cigarettes
Alcohol
Coffee, tea and sugar
Fast food and takeaway meals
Pet food
Flowers
Fruit and vegetables
Regular medicines and vitamins
Examples of shopping products
Computers
Mobile phones
Entertainment equipment, such as an Xbox or PlayStation
Cameras
Household furniture
Washing machines and dishwashers
Clothing
Sports equipment
Kitchen utensils – plates, pots and pans
Choice of restaurants
Hotels and airlines
Luggage
Getting a pet
Joining a gym
Hairdresser and beautician
Car repairs
Plants for the yard
Perfumes and cosmetics
Running shoes
Everyday jewelry
Kid's bicycles
Internet provider
Everyday home loans and credit cards
House repairs, paint, tools
Regular doctor and dentist
Examples of specialty products
Architect designed house
An expensive car
Special jewelry
Planning a wedding
Wedding dress
Specialist sporting equipment
Specialist camping equipment
Specialist medical advice
Specialist professional advice – legal, financial
Home loans for specialist needs
Some types of computer software
Extensive international holiday
Examples of unsought products
Life insurance and funeral insurance
Additional warranties on product purchases
Encyclopedias
Charity donations
Some types of exercise equipment
Unusual products – perhaps as advertised on the TV shopping channel
Sometimes new technology (especially when first introduced to the market)
Raffle tickets
Fund raising events
Sometimes counseling and personal support
Overlap of product categories
Please note: sometimes there can be an overlap between different types of products, depending upon the level of consumer involvement in the purchase decision. An example of this overlap would be for a home loan – which would be a shopping product for the average consumer, but could be a specialty product for a consumer planning to build a house over time or needing a greater degree of product flexibility.
RELATED TOPICS
The consumer products classification system
How products are classified in the consumer products classification system
Why the consumer products classification system is used
The marketing mix for convenience products
The marketing mix for shopping products
The marketing mix for specialty products
The marketing mix for unsought products