Understanding Benefits and Features
Consumers buy product solutions – that is, the benefits of the product or service – for their need/problem.
Consumers are generally more interested in meeting their needs and solving their problems, rather than the details of the product features.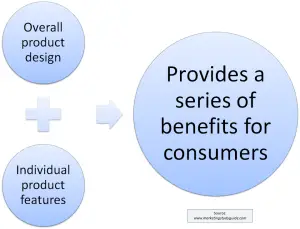 For example, what do you think consumers would care about more; whether there is an "Intel inside" (the product feature), or how fast their new laptop load and play videos for them (a benefit).
Benefits are directly linked to product features. A product feature has been designed (in most cases) to provide some element of value (that is, benefit) to the end-consumer. Therefore, as marketers, our goal is to communicate clearly what the potential consumer will gain from purchasing our firm's products.
In promotional communications, it is important to communicate benefits – not features!
What you need to know about benefits and features
The overall product design and the product's individual features create benefits for consumers
Consumers don't necessarily care about the actual product features – they just want the benefits (a solution for their needs)
Additional product features should be added provided they add a benefit for consumers that they see value in OR
Additional product features should be added if they help to differentiate the product more effectively
Packaging and other forms of communication should work to highlight the benefits for the consumer
The key benefits communicated will form the central part of the product's positioning in the marketplace
Examples of the difference between a benefit and a feature
To better understand the distinction between benefits and features, let's directly compare them in the following examples.
 Product = Ready-made fruit salad
| | |
| --- | --- |
| Product Feature | Associated Product Benefit |
| Includes an array of different fruits | Choice of delightful tastes and textures |
| Cut into small pieces | Easy-to eat, bite-size pieces |
| Fresh, not canned | All natural and healthy |
| Served in a plastic container with a fork | Easy to eat anywhere |
| They are served chilled | Always cool and refreshing |
 Product = An inflatable trampoline that floats (a Swimming Pool Toy)
| | |
| --- | --- |
| Product Feature | Associated Product Benefit |
| Enables jumping, diving, and games | Fun for the whole family |
| Weight capacity of 100kg | Safe for adult use |
| Electric inflation pump included | Easy, quick and automatic inflation |
| Repair kit included | Will last a long time |
| Available in black, red, or yellow | Choice of attractive colors |
 Product = A Pet Walking Service
| | |
| --- | --- |
| Product Feature | Associated Product Benefit |
| Available in most areas | Close and convenient |
| We will pick and return your pet – and there's no need for you to be home at the time | Full service at any time, super convenient |
| Walks range from 30 to 90 minute duration | Tailored to suit your dog's fitness level |
| Maximum six dogs per walk | Meeting your dog's social needs |
| All our dog walkers are animal lovers | Responsible staff that will care for your dog |
Related Topics
Examples of benefits for consumers