Get the free ATAR forecasting model: Free Download: ATAR Model Excel Template
---
The standard ATAR forecasting model relies upon all four elements of the ATAR components, namely:
awareness,
trial,
availability and
repeat/rebuy.
But it is quite likely you will need to use a modified ATAR model because of the different business models in operation.
This article highlights the various times that it will be necessary to modify the ATAR model and provides examples of how to achieve this accurately using the free Excel spreadsheet available on this website.
---
Push marketers = awareness is not relevant = TAR
Push marketers target retailers/distributors in order to get their products successfully placed in-store. They rely upon the retailer to sell their products.
Push marketers are relatively common with shopping products – that is, products that consumers would generally shop around for visiting numerous suitable retailers.
Examples of shopping products include: furniture, everyday clothing, household items, gifts for family/friends, and so on.
For these products, consumers visit the store and browse for a suitable product – or seek a salesperson's assistance in finding a suitable product. The consumers have limited awareness of the brands in this product category. This means that awareness is not a relevant ATAR factor for push marketers.
To provide an ATAR forecast for a push marketer, it will be necessary to set the awareness figure in the Excel template to 100%. This will mean that the awareness number will have no impact on the calculation, as 100% is 1 and any multiplied by 1 is the same number.
Please review this example table to see how this is done.

---
Direct channel and online firms = availability is not relevant = ATR
Firms that have their own direct channel, including online firms, are usually less concerned with access to retailers and wholesalers – as they sell direct to the end consumer.

We would expect that most online businesses would have the capacity to reach 100% of the market – in this case we would set availability to 100%, as shown above (although this may be slightly reduced if the particular market has a relatively low level of Internet access).
The setting of availability to 100% is also reasonably likely for firms that sell direct to the end consumer and have a fairly extensive call center facility and/or traveling salespeople.
For other firms that have direct channels, they would use the percentage of the geographic market that they cover based upon the number of stores/outlets/salespeople they have operating.
For example, a large outlet operator like McDonald's may have 1,000 stores in a particular country which covers 90% of the population – therefore, they would typically input 90% availability into their ATAR forecasts and calculations.
---
Durable products = repeat/rebuy is not relevant = ATA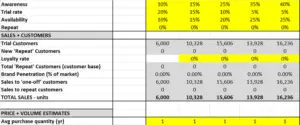 The final ATAR variation to be considered is for durable products.
These are products that are only bought occasionally by the target market.
An example here would be a car, where the typical consumer may only purchase a new car every five years or so.
In this version of the ATAR forecast, there is no real sense of repeat/rebuy purchases in the short-term. Therefore, the easiest approach using this free Excel template is to set repeat purchases at 0% (in which case the loyalty rate becomes irrelevant as well) and set average purchase quantity 21, as shown in this table (please click to enlarge).
As you can see, the ATAR's "repeat/rebuy" input has been set to 0% and the average purchase quantity has been set to 1. As a result, in the ATAR calculation, only one-off (new) customer sales are included.
---
Quick ATAR Recap
The ATAR forecast model is a marketing model that stands for Awareness, Trial, Availability, and Repeat. It is a framework used to forecast and analyze the potential success of a new product or service in the market.
1. Awareness: This refers to the level of consumer knowledge or recognition of a particular product or brand. It measures the extent to which the target market is aware of the product's existence and its features.
2. Trial: Trial represents the initial purchase or usage of the product by consumers. It focuses on encouraging potential customers to try the product for the first time, often through promotional activities, free samples, or trial offers.
3. Availability: Availability refers to the accessibility and distribution of the product. It considers factors such as the product's physical availability in stores or online, the ease of purchasing or obtaining it, and the overall convenience for customers.
4. Repeat: Repeat refers to the likelihood of customers repurchasing the product or becoming loyal to the brand. It measures the rate at which customers continue to buy the product after the initial trial, indicating their satisfaction and loyalty.
---
Find Out More About ATAR Forecasts