Marketing strategy is designed to deliver short-term financial and marketing goals and to build and strengthen the firm's competitive advantages over time. A firm that has significant competitive advantages will enjoy greater profitability and stability of performance. An excellent way to understand this concept is through the GLAD model of Marketing Strategy. This is an original model that I have developed to teach university students how to think about and structure a firm's marketing strategy.
GLAD Model of Marketing Strategy
An excellent model for highlighting the goals of marketing strategy is the GLAD model. As can be seen below, the four main elements of the model make up the word GLAD (G = Growth, L = Leverage, A = Adapt and D = Differentiate.)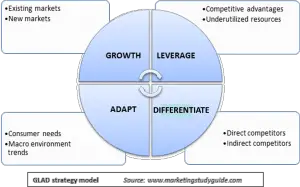 Growth
Virtually all organizations, particularly profit-oriented firms, will have goals to grow each year. Normally firms want to increase their profit and revenue levels, which is achieved by increasing market penetration (selling more to existing target markets) and by pursing new target markets.
Achieving growth targets would be one of the most common expectations of marketing strategy. For instance, if a firm wants to increase annual profitability from $10m to $15m over the next three years, they would need to modify their marketing strategy in order to achieve this goal.
Leverage
Most firms will have particular competitive advantages in the marketplace. In other words, they are particular good at something. For instance, Apple is great at product innovation, Wal-Mart is great at logistics which enables them to be very price competitive, and Singapore Airlines have a superior level of customer service.
Therefore, if the firm does something really well, then it makes sense to use that strength to their advantage. This is known as leverage – exploiting their capabilities and resources in other areas. A good example of this is Apple when they originally entered the cell/mobile phone market with the iPhone. They were very skilled at product design and understanding the end-consumer experience. As a result, Apple has been enormously successful in leveraging their capabilities into both the cell/mobile phone market and then later the tablet market with the iPad.
The other aspect of leverage relates to underutilized resources. A good example of this goes back to the 1980s when McDonalds had virtually empty stores before 11am. They had an underutilized resource of 1000s of stores. They were able to leverage this asset through the development of a breakfast (and then later, coffee) offering.
Therefore, a firm's marketing strategy should seek to best utilize its assets and capabilities to its best advantage.
Adapt
The business environment is constantly changing. Think about the online world as an example; with Google starting in 1996 and Facebook in 2004. These firms has dramatically changed the lifestyle of consumers throughout the world and forced businesses to modify how they operate.
Therefore, a firm's marketing strategy needs to consider a variety of trends including: consumer lifestyles, demographics, economic, political, natural environment, technology and so on. Basically the firm needs to construct their marketing strategy to help them adapt to what the marketplace will be in three to five years' time (and even beyond).
Differentiate
The final part of the GLAD model is the need to differentiate against competitive offerings. In this regard, the strategy needs to consider direct competition of course, but should also be considerate of the firm's broader set of competitors.
Typically, the firm's broader set of competitors will include indirect competitors (substitute products) and potential competitors. As an example, an indirect competitor for McDonald's would be a candy bar or a supermarket (selling quick cook food) or a juice bar. All of these are indirect competitors as they meet the same core need for the consumer (quick food or snack because they are hungry).