Is Pursuing High Customer Satisfaction Worthwhile?
The relationship between high customer satisfaction, leading to increased customer retention (loyalty), resulting in increased long-term profitability is generally well supported by academic research and commercial practice.
But there are situations and industries where this logical relationship may not hold true. Therefore, when reviewing customer satisfaction issues it is important to consider both its benefits and its potential limitations.
Without an understanding of the limitations of customer satisfaction as a marketing metric, some firms are likely to make poor strategy decisions.
A good example of the possible concerns associated with being too focused on achieving high customer satisfaction is highlighted in the following case study.
Credit Union Case Study
I worked for a number of years in the credit union industry (please note that there is a good video that highlights the differences between banks and credit unions on this site) and one of the industry's big claims was that credit union members (customers) were far more satisfied than bank customers.
BUT… in Australia, where I live and work, the major banks are very profitable and many credit unions have merged together in an effort to survive. This conflicting situation clearly brings into question the validity of the customer satisfaction dynamic.
Therefore, the question becomes why have credit unions NOT financially benefited from high customer satisfaction levels – instead it appears that they have been negatively impacted. There are several reasons for this outcome:
Credit unions have mainly positioned as friendly, relationship-based and local financial institutions. This positioning generally makes sense because they usually don't have the size, branch network, and the broad product and service offerings of the banks. However, this means that many customers (members) have relatively LOW expectations of the credit union.
That is, the customers typically see the credit union as quite suitable for their smaller savings and loans. Therefore, in market research surveys, these customers will indicate that they are quite satisfied with the credit union – which primarily occurs because the customers don't expect that much.
Because credit unions (typically) have a lower average share-of-customer (usually referred to as share-of-wallet in financial institutions, they will generate less profit per customer as a result.
Many of these customers will tend to place their more valuable banking accounts (that is, business accounts, large investments, share transactions, commercial loans and credit cards) with a bank – thereby increasing the banks' profit per customer.
Compounding this profit problem for credit unions is still the issue of low expectations, as this will significantly restrict the number of new customers that are attracted to join them.
This overall scenario can be summarized in the following diagram.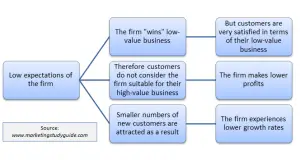 In order to review this concept further, it is important to understand the distinction between service quality and customer satisfaction. Too many firms tend to focus upon trying to improve customer satisfaction, when in fact, they should be pursuing overall service quality improvements.