SWOT Analysis Example for a FinTech
FinTechs have become very common in recent years, but also have the challenge of having a fast-growing competitive set and the need to create business relationships as the majority of their customers are businesses.
Financial technology companies leverage the opportunities in a fast-moving tech world, but that also creates threats as well – as highlighted in the following sample SWOT analysis for a start-up fintech company.
Strengths for a FinTech
Strong R&D expertise and team
Propriety software
IT/software expertise
Highly innovative
Highly automated systems
Highly agile
High marketing effectiveness
First-mover skills
Good identifier of market insights
Adaptive to change
Sought after channel partner
Digital marketing expertise
Growing brand equity
Able to charge a price premium
Success in entering new markets
Reaching emerging market segments
Analytical marketing approach
Superior product design
Clearly differentiated products
Attracting many new customers
Weaknesses for a FinTech
Low brand awareness
Limited market appeal
Small sales team
Product-centric strategy
Fluctuating marketing success
Products seen as hard-to-use
Many product gaps
Poor share-of-customer
Limited market share
High cost structure
Strong existing competitors
Many emerging new entrants
Cost disadvantage
Broad competitive set
No use of strategic alliances
Limited channel access
Unclear positioning
Reliance on a single brand
No consumer connection to the brand
No clear brand associations
Opportunities for a FinTech
Grow customer loyalty/retention
Attract new customers through special offers
Raise capital funding to invest in new ventures
Generate license revenue streams from key patents
Develop an innovation culture
Leap-frog competitor's technology
Develop strategic alliances
Develop propriety software
Build our IT/software expertise
Become a first-mover in an emerging markets
The gig economy
Shared-economy services
Become a disruptive innovator
Utilize publicity to help build our brand
Build our brand awareness
More clearly differentiate our product offering
Introduce new products faster than competitors
Expand our product mix
Develop new products for international markets
Develop break-through new products
Threats for a FinTech
Potential new product failures damaging our brand
Increased market fragmentation
Inability to grow the customer base long-term
Becoming overly price competitive
Too slow in the development of new products
Losing key/valuable customers
Slower growth due to the inability to raise funds
Increased operating/technology costs
Ability to meet cash flow requirements
Inexperienced staff
Unpredictable trends and disruption
Rapid technological change
Hacking/lost of data
Breach of data/privacy issues
More efficient competitors, competing on price
Many emerging new entrants
Growing competitive set
Competitors targeting our key customers/segments
Competitors targeting our product gaps
Competitors more able to diversify income streams
Summary SWOT Analysis for a FinTech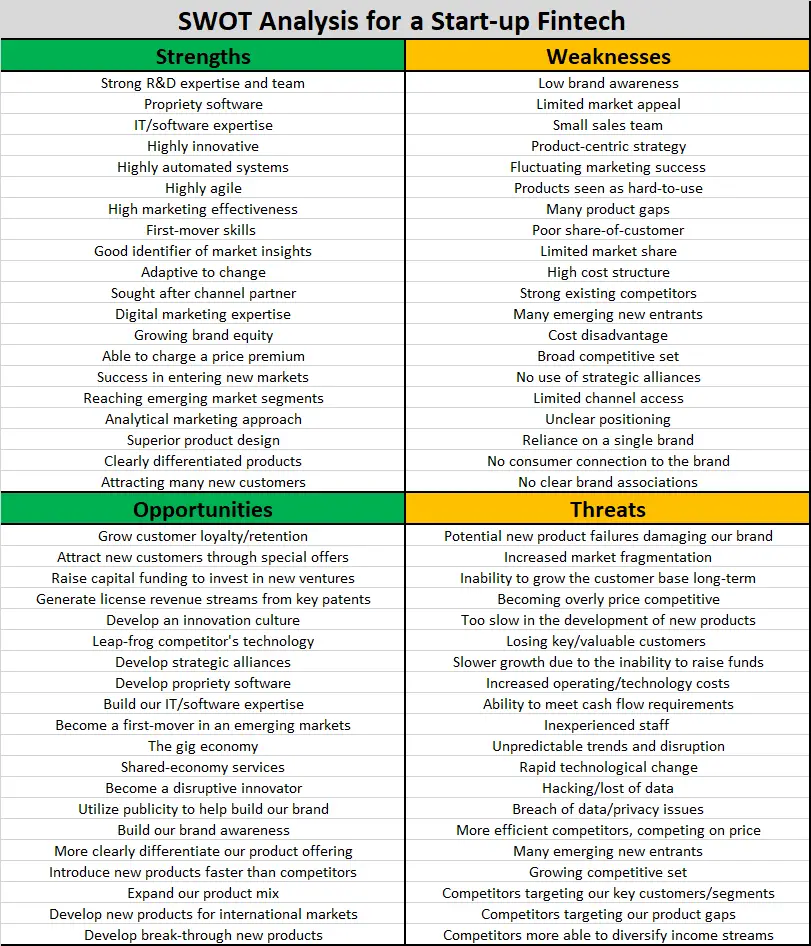 What is a Fintech?
The term Fintech (Financial Technology) refers to software and other modern technologies used by businesses that provide automated and improved financial services.

Source: FinTech Weekly
Also Review
SWOT Analysis for a Small Bank
SWOT Analysis for a Large Bank