Example SWOT Analysis for a Small Bank
In this article you will find a comprehensive set of ideas for making a SWOT analysis for a smaller bank. Please note that there are also two more banking SWOT examples on this website, available at:
In addition, you should note that this banking SWOT analysis was generated using the free  SWOT analysis Excel template (read more or review the video at the bottom of this page) that you can download for free on this website below.
Download your free SWOT analysis Excel template here… free-SWOT-maker-Excel-template
---
Example SWOT Analysis for a Smaller Bank
Quick Introduction: Assumptions and Logic Behind the Banking SWOT
Smaller financial institutions often face challenges in terms of their perception of financial security and lack of reach and global coverage. Larger financial institutions are much stronger brands, more sophisticated marketing analysis and tools, lots of locations, and are perceived well internationally.
Small banks need to focus on geographic areas, niche target markets, exceptional customer service, and even innovative product design.
With this information in mind, here is possible ideas for a Small Bank to feed into a SWOT analysis…
SWOT Strengths for a Small Bank
Great customer experience delivered
Good understanding of the customer journey
Good fit to customer's needs
Effective niche marketer
Effective sales and service culture
Valuable customer database information
IT/software expertise
Highly agile
High service levels
Good understanding of the market
Effective online channels
Successful online sales channel
Success with online comparison websites
Strong social media engagement
Digital marketing expertise
Positive attitudes to the brand
Good local market knowledge
Customer-centric strategy
Easy-to-use products
High level of customer loyalty
SWOT Weaknesses for a Small Bank
Many product gaps
Limited product range
No structured CRM program
Limited number of new customers
Limited market share
No real economies of scale
Unable to truly understand where the market is heading
No use of marketing-mix models
Limited ability to keep up with technology
A market follower
Strong existing competitors
Many emerging new entrants
Cost disadvantage
Broad competitive set
Weak bargaining power with suppliers
No expertise in creating engaging online content
Limited online advertising experience
Limited sales area coverage
Limited access to key locations
Seen as a product follower
SWOT Opportunities for a Small Bank
Broaden our geographic reach
Expand our product mix
Broaden  our product range to target new segments
Map out and target the steps in the customer journey
Develop and implement a CRM program
Pursue greater economies of scale
Use cross-functional teams to streamline processes
Develop a customer relationship culture
Data mining of our customer  database
Build our IT/software expertise
Low inflation outlook
Introduce new, modern technology and/or systems
Become a disruptive innovator
Expand our use of social media platforms
Build/acquire digital marketing expertise
Advertise on online comparison websites
Utilize key sponsorships to broaden our brand
Create/build "consumer love" for our brand
Build online engagement with our brand
Redesign our key stores/outlets
Close branches (to cut costs)
SWOT Threats for a Small Bank
Ongoing weak social media engagement
Increased media fragmentation
Excessive cost of big data
Too slow in the development of new products
Becoming a me-too player, due to product mix
Weakening customer relationships
Declining share-of-customer
Slower growth due to the inability to raise funds
Inflexible internal processes
Being leap-frogged by competitor's technology
Disruptive technology
Breach of data/privacy issues
Many emerging new entrants
Disruptive new competitors
Competitors targeting our product gaps
Competitors more able to diversify income streams
Competitors introducing better/improved products
Being outperformed by data-driven competitors
Being perceived as slow and outdated
Poor marketing ROI
---
Video on How to Use the Free SWOT Analysis Excel Template – So You Can Design Your Own Banking SWOT
---
Visual SWOT Analysis for a Small Bank
Note: This output was produced by the free SWOT Excel template – available for immediate download at the top of this page.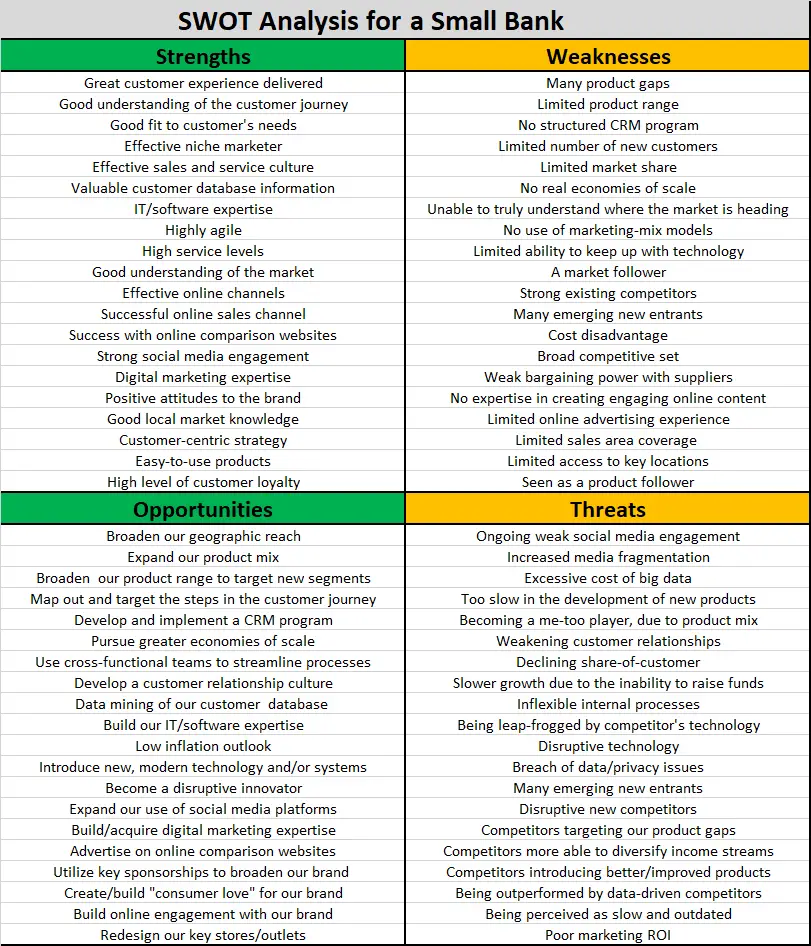 ---
Quick Overview: What is SWOT Analysis? (A Marketing Perspective)
SWOT analysis is a tool designed to evaluates an organization's strengths, weaknesses, opportunities, and threats in order to identify and construct a marketing strategy.
For marketers, usually the central elements of the SWOT is the intersection of STRENGTHS and OPPORTUNITIES . This is because, as marketers, we are seeking to leverage our competitive advantage/s into new areas of growth and opportunity.
Our strengths are the INTERNAL components of the organization that provide it with a competitive advantage in the marketplace. In terms of marketing, we are typically looking for strengths in the areas of:
Brand equity and loyalty
Customer loyalty and satisfaction
Product positioning
Product quality
Product range
Locations/channel advantages
Logistics
Cost structure (for pricing)
Service levels
And then we ideally want to MATCH some of these strengths to opportunities, especially in the areas of:
Emerging customer needs and trends
New consumer segments
Technology development (for new products)
New channels (and partners)
Marketing automation tools and AI
Enhanced customer experience needs
Market development and growth
Customer relationships and customer lifetime value
NOTE: Obviously, most businesses will also need to consider weaknesses and threats – but the above simplified description is an ideal starting point for marketing strategy development.
---
Helpful Resources for preparing Bank SWOT Analysis
Want More SWOTs?
---
Still Need More Information on SWOT Analysis?