Example SWOT Analysis for a Small Bank
In this article you will find a comprehensive set of ideas for making a SWOT analysis for a smaller bank. Please note that there are also two more banking SWOT examples on this website, available at:
In addition, you should note that this banking SWOT analysis was generated using the free  SWOT analysis Excel template (read more or review the video at the bottom of this page) that you can download for free on this website below.
Download your free SWOT analysis Excel template here… free-SWOT-maker-Excel-template
---
Example SWOT Analysis for a Smaller Bank
Quick Introduction: Assumptions and Logic Behind the Banking SWOT
Smaller financial institutions often face challenges in terms of their perception of financial security and lack of reach and global coverage. Larger financial institutions are much stronger brands, more sophisticated marketing analysis and tools, lots of locations, and are perceived well internationally.
Small banks need to focus on geographic areas, niche target markets, exceptional customer service, and even innovative product design.
With this information in mind, here is possible ideas for a Small Bank to feed into a SWOT analysis…
SWOT Strengths for a Small Bank
SWOT Weaknesses for a Small Bank
SWOT Opportunities for a Small Bank
SWOT Threats for a Small Bank
---
Video on How to Use the Free SWOT Analysis Excel Template – So You Can Design Your Own Banking SWOT
---
Visual SWOT Analysis for a Small Bank
Note: This output was produced by the free SWOT Excel template – available for immediate download at the top of this page.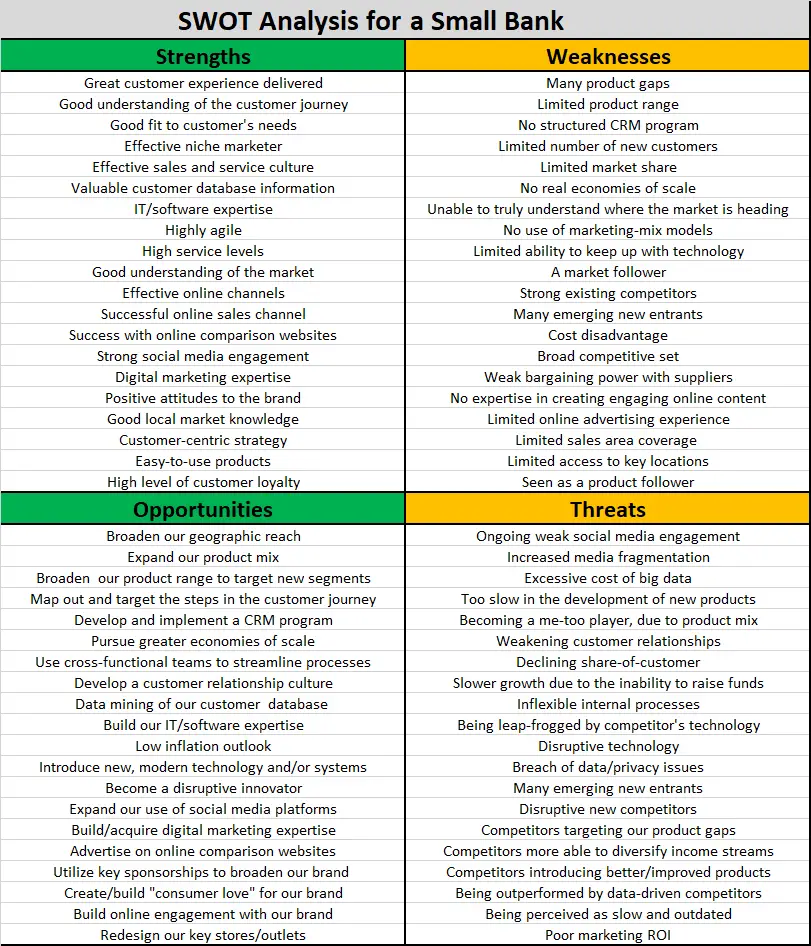 ---
Quick Overview: What is SWOT Analysis? (A Marketing Perspective)
SWOT analysis is a tool designed to evaluates an organization's strengths, weaknesses, opportunities, and threats in order to identify and construct a marketing strategy.
For marketers, usually the central elements of the SWOT is the intersection of STRENGTHS and OPPORTUNITIES . This is because, as marketers, we are seeking to leverage our competitive advantage/s into new areas of growth and opportunity.
Our strengths are the INTERNAL components of the organization that provide it with a competitive advantage in the marketplace. In terms of marketing, we are typically looking for strengths in the areas of:
And then we ideally want to MATCH some of these strengths to opportunities, especially in the areas of:
NOTE: Obviously, most businesses will also need to consider weaknesses and threats – but the above simplified description is an ideal starting point for marketing strategy development.
---
Helpful Resources for preparing Bank SWOT Analysis
Want More SWOTs?
---
Still Need More Information on SWOT Analysis?