Possible SWOT Analysis for a Large Bank
Larger banks have natural economic and customer base advantages in the marketplace, as compared to their smaller competitors. However, in strength there is also a weakness and large banks also have challenging marketing environments to deal with.
Here are some thoughts starters for preparing a SWOT analysis for a large bank.
Strengths for a Large Bank
Effective CRM program
Attracting many new customers
Focus on internal marketing
Easy access to capital and funding
Beneficial economies of scale
Valuable customer database information
Strong technical expertise
IT/software expertise
Highly automated systems
Effective new product development process
Established strategic alliances
Digital marketing expertise
Strong brand equity
Multi-channel success
Global coverage and reach
Analytical marketing approach
Product leadership
Broad product range
Strong market share
Good understanding of the customer journey
Weaknesses for a Large Bank
Product-centric strategy
Fluctuating marketing success
Not overly close to the customer
Not meeting changing consumer needs
Low levels of customer satisfaction
Declining net promoter scores
Silo-based culture
Inflexible staff structure
Resistance to change
Poor service levels
Many emerging new entrants
Losing acquisition opportunities to key competitors
Dynamic competitive landscape
Broad competitive set
Significant channel conflict
Poorly regarded in the industry
Seen as having a inconsistent brand
Seen as being disinterested in corporate social responsibility
No consumer connection to the brand
Many negative attitudes to the brand
Opportunities for a Large Bank
Broaden  our product range to target new segments
Shift to a customer-centric marketing outlook
More effectively manage customer expectations
Develop and target clear brand personas
Shift from silos to a team-based culture
Develop an innovation culture
Use automation to improve performance
Leverage our big data
Data mining of our customer  database
Become a first-mover in an emerging markets
Lobby the government for improved legislation
Introduce new, modern technology and/or systems
Become a disruptive innovator
Aggressively challenge new players
Improve overall social media engagement
Increase our corporate social responsibility image
Improve attitudes towards our brand
Leverage our market insights
Expand our number of stores/outlets
Develop break-through new products
Threats for a Large Bank
Expensive CRM program
Excessive cost of big data
New products cannibalizing our existing sales
Reaching market saturation
A disconnected, and less loyal, customer base
Increased operating/technology costs
Limited internal marketing
Inflexible internal processes
Enterprise bargaining issues
Being too slow to adapt to change
Online fraud
Disruptive innovation
Breach of data/privacy issues
Disruptive new competitors
Competitors providing more "value add"
Being challenged by well-funded start-ups
Negative attitudes to the brand
Limited corporate social responsibility brand image
Poor publicity in the media
Limited success in creating engaging content
Summary SWOT analysis for a Large Bank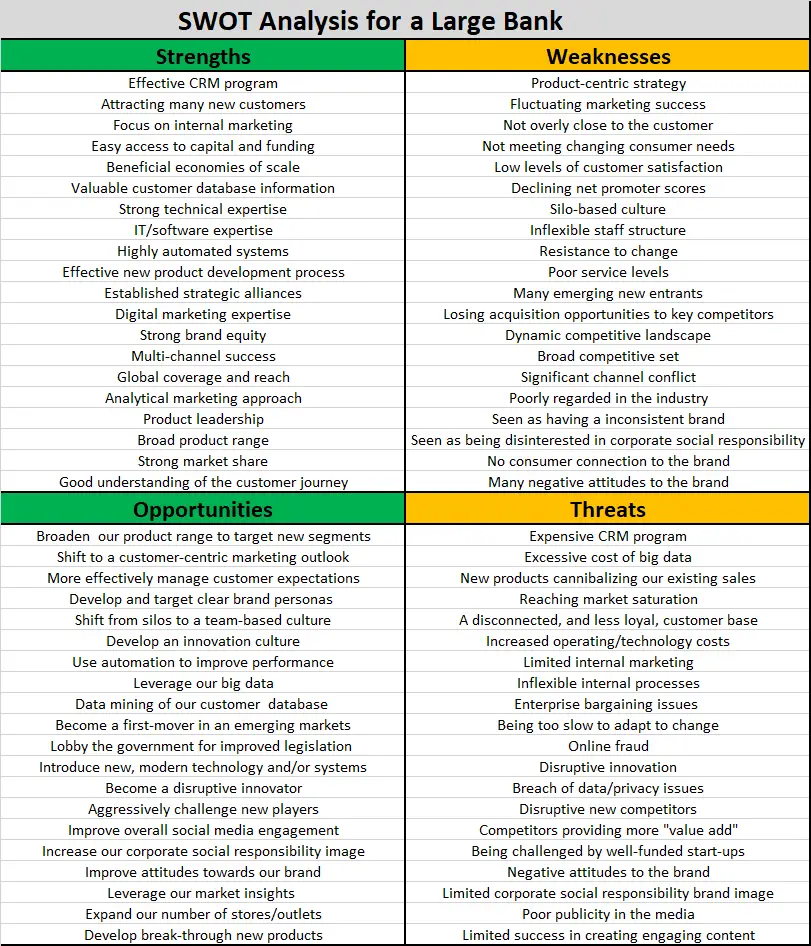 Helpful Resources for preparing Bank SWOT Analysis
A Sample SWOT Analysis for a FinTech