Possible SWOT Analysis Ideas for the Coca-Cola Company
Coca-Cola is one of the strongest fast moving consumer goods (FMCG's) brands in the world. Its flagship product was launched in the 1800s and the company has expanded successfully internationally and has developed a very broad range of beverage products.
Here are some possible ideas to feed into a swot analysis for Coca-Cola – as you can see, being such a strong established brand, they probably have less weaknesses than other firms.
Strengths for Coca-Cola
Good corporate culture
Stable cash flows
Successful international expansion
Sophisticated marketing-mix models
Manufacturing expertise
Highly automated systems
Efficient logistics system
Effective use of marketplace data
Good identifier of market insights
Ability to leap-frog competitor's technology
Strong retailer relationships
Strong brand equity
Consumer "love" for the brand
Lots of key locations
Highly effective sales team
Successful product line extensions
Broad product range
High share of target markets
Clear value proposition
Clear segments targeted effectively
Weaknesses the Coca-Cola
Strong existing competitors
Many substitute competitive products
Broad competitive set
Significant channel conflict
Seen as being disinterested in corporate social responsibility
Targeting price elastic markets
Reducing customer lifetime values
Limited number of new customers
A high-cost logistics system
Opportunities for Coca-Cola
Extend our brand into new areas (brand extension)
Develop new products for international markets
Broaden our product range to target new segments
Add more product line extensions
Target more price inelastic markets
Attract new customers through special offers
Use automation to improve performance
Leverage our superior logistics system
Improve our analytical marketing capabilities
Data mining of our customer database
Demand for home delivery services
Aggressively challenge substitute offerings
Leverage bargaining power with retailers
Expand number of retailers
Acquire a competitor's successful brand
Conduct more marketing experiments
Supply private label brands for key retailers
Reposition weaker products
Introduce low-cost products under a new brand name
Identify and pursue relevant market gaps
Threats for Coca-Cola
Key competitors gaining market share
Inability to grow the customer base long-term
Products becoming outdated
New products cannibalizing our existing sales
Lost of unique product features
Failed brand extensions
Decline stage of the product life cycle
Reaching market saturation
Declining share-of-customer
A disconnected, and less loyal, customer base
Health concerns
Increase in commodity prices
Home delivery competitors
Industry price-war
Growing competitive set
Competitors targeting our product gaps
Retailers not accepting our product line extensions
Loss of a key retailer/channel
Organized consumer lobby groups
Adverse media attention
Summary SWOT Analysis for Coca-Cola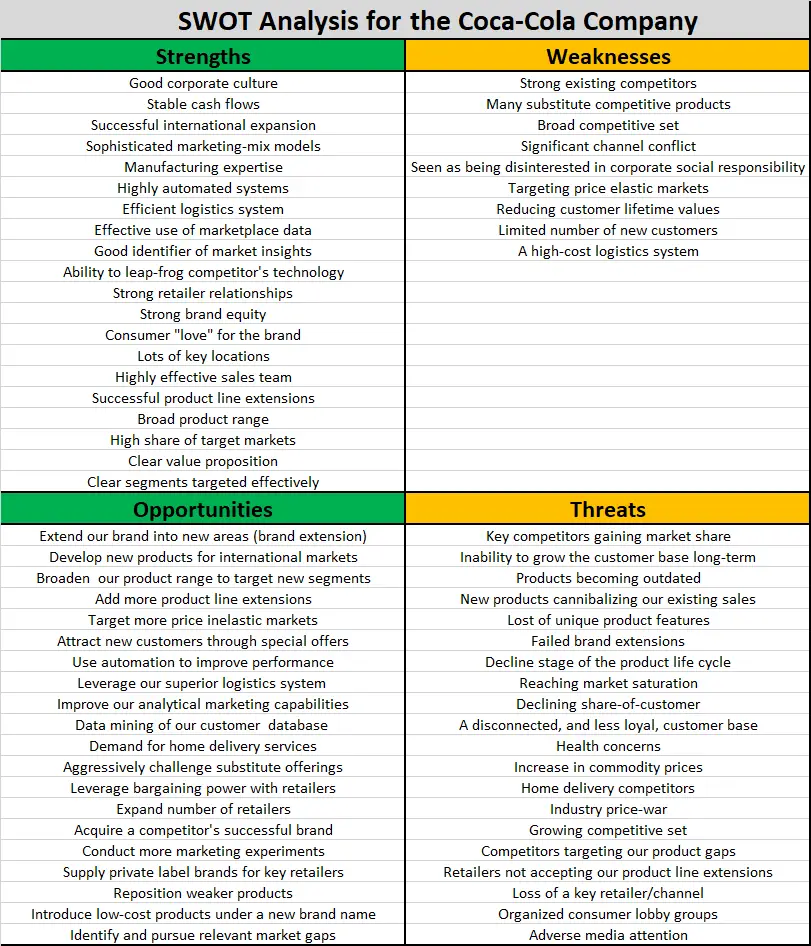 Helpful further information for a SWOT Analysis for Coca-Cola
Repositioning Coca-Cola and Pepsi in the Cola Wars era
A Little Bit About Coca-Cola
Coca-Cola history began in 1886 when the curiosity of an Atlanta pharmacist, Dr. John S. Pemberton, led him to create a distinctive tasting soft drink that could be sold at soda fountains. He created a flavored syrup, took it to his neighborhood pharmacy, where it was mixed with carbonated water and deemed "excellent" by those who sampled it. Dr. Pemberton's partner and bookkeeper, Frank M. Robinson, is credited with naming the beverage "Coca‑Cola" as well as designing the trademarked, distinct script, still used today.

Source: Coca-Cola History
What are FMCG's?
Fast-moving consumer goods (FMCG), also called consumer packaged goods (CPG), refer to products that are highly in-demand, sold quickly, and affordable. Such items are considered "fast-moving" as they are quick to leave the shelves of a store or supermarket because consumers use them on a regular basis.

Source: Corporate Finance Institute