Example SWOT Analysis for a Bank
Here you will find a detailed example of a SWOT analysis for a bank. Please note that there are also two more banking SWOT examples on this website, available at:
As a bonus, this example SWOT analysis was generated using the SWOT analysis Excel template (read more or review the video at the bottom of this page) that you can download for free on this website.
Download your free SWOT analysis Excel template here… free-SWOT-maker-Excel-template
---
SWOT Analysis Example for a Bank
Bank Strengths
High service levels
Highly automated systems
IT/software expertise
Easy access to capital and funding
Solid financial reserves
Effective sales and service culture
Focus on internal marketing
Team-based culture
Clear segments targeted effectively
Clear value proposition
Effective CRM program
Good understanding of the customer journey
Strong share-of-customer
Broad product range
Attractive store design/layout
Highly convenient locations
Clear positioning
Seen as having strong corporate social responsibility
Easy-to-use apps
Bank Weaknesses
Poor cost efficiencies
Mixed quality staff
Targeting price elastic markets
No distinct product features
Undifferentiated products
Limited engagement from marketing communications
Have to price under the market
No consumer connection to the brand
Limited online advertising experience
Limited social media success
No expertise in creating engaging online content
No real relationships with online "influencers"
Broad competitive set
Bank Opportunities
Leverage our big data
Develop a customer relationship culture
Attract new customers through special offers
Shift to a customer-centric marketing outlook
Target more price inelastic markets
Expand our product mix
More clearly differentiate our product offering
Broaden our geographic reach
Build relationships with influencers
Expand our number of stores/outlets
Strengthen/clarify our value proposition
Build online engagement with our brand
Advertise on online comparison websites
Build/acquire digital marketing expertise
Creating more engaging social media content
Become a disruptive innovator
Bank Threats
Becoming a market laggard or a me-too player
Declining unit margins
Rising fixed costs
Consumers becoming more price sensitive
Becoming a me-too player, due to product mix
Excessive cost of big data
Inability to grow the customer base long-term
Poor ratings on review websites
Being perceived as slow and outdated
Aggressive price cutting
Growing competitive set
Many emerging new entrants
Breach of data/privacy issues
Disruptive technology
High levels of inflation
Online fraud
Uncertain market conditions
---
Video on How to Use the Free SWOT Analysis Excel Template – So You Can Design Your Own Banking SWOT
And here is a visual output of the free Excel template for preparing any SWOT analysis quickly and easily for the above banking example bank.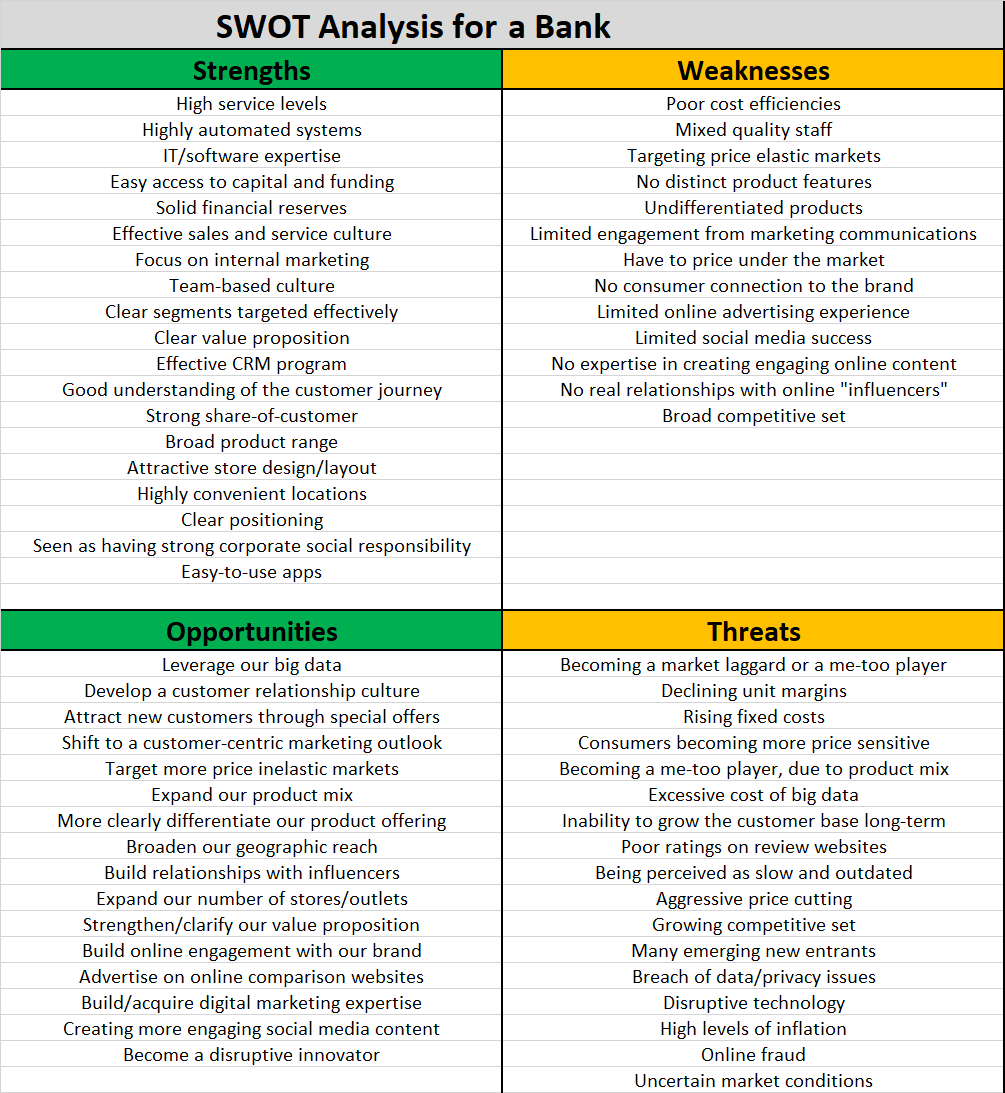 ---
Quick Overview: What is SWOT Analysis? (A Marketing Perspective)
SWOT analysis is a tool designed to evaluates an organization's strengths, weaknesses, opportunities, and threats in order to identify and construct a marketing strategy.
For marketers, usually the central elements of the SWOT is the intersection of STRENGTHS and OPPORTUNITIES . This is because, as marketers, we are seeking to leverage our competitive advantage/s into new areas of growth and opportunity.
Our strengths are the INTERNAL components of the organization that provide it with a competitive advantage in the marketplace. In terms of marketing, we are typically looking for strengths in the areas of:
Brand equity and loyalty
Customer loyalty and satisfaction
Product positioning
Product quality
Product range
Locations/channel advantages
Logistics
Cost structure (for pricing)
Service levels
And then we ideally want to MATCH some of these strengths to opportunities, especially in the areas of:
Emerging customer needs and trends
New consumer segments
Technology development (for new products)
New channels (and partners)
Marketing automation tools and AI
Enhanced customer experience needs
Market development and growth
Customer relationships and customer lifetime value
NOTE: Obviously, most businesses will also need to consider weaknesses and threats – but the above simplified description is an ideal starting point for marketing strategy development.
---
Want More SWOTs?
---
Still Need More Information on SWOT Analysis?